Small Planet is a great deli that I frequent as often as I can. The deli features custom sandwiches as well as great pasta salads, traditional salads, soups, breads, and desserts. Everything here is top notch. My usual is the "creator" option, which, for me, consists of smoked turkey and ham with white cheddar and provolone served on whole wheat bread; veggies include leaf lettuce and pickles. My condiments of choice are dijon mustard and mayonaisse.
! This photo by no means represents the true essence of said sandwich in its original form. It was taken with me to an undisclosed location outside of the deli and placed in a fridge until the picture was taken about 45 minutes later. That said, here is the sandwich: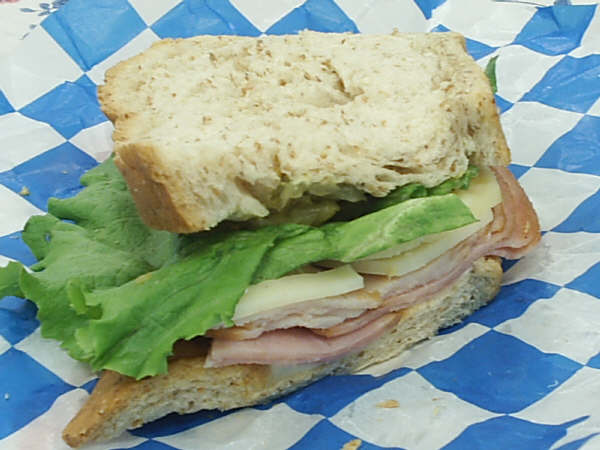 I must note that this is only half of the sandwich.
In keeping with the belief that multimedia is vital in any presentation, I've consulted with leading experts and specialists who utilize the most cutting-edge technology and programming in the matter of 'virtual tours'. You're probably familiar with this technique when viewing car manufacturer websites and such, where they provide a 360 degree, 3-dimensional view of a vehicle. It's a pretty cool feature. I'd like to present that same, high-tech breakthrough to you.
Click on the sandwich below to begin your virtual tour...