Not to say that this is any kind of 'official' collection of sandwiches honored each month, or even that there would be a fitting reason why a particular sandwich is featured for a given month, but that I felt it necessary to spotlight a random sandwich as each month passes. It's always good to learn a little of things that one may not be familiar with. How else would we learn?

For the month of January, SLC hails the sub as Sandwich of the Month.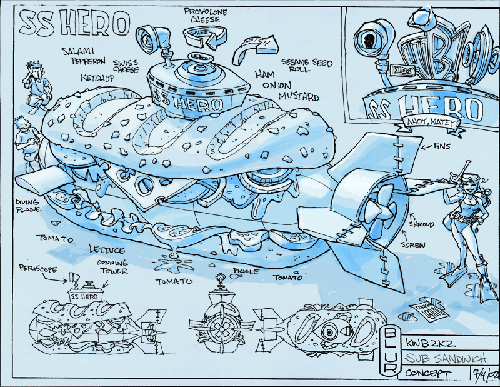 Submarine The sub is a king-sized sandwich on an Italian loaf of bread approximately 12 inches long and 3 inches wide. It is filled with ham, salami, cheese, lettuce, tomatoes, onions, and usually flavored with garlic powder and oregano. It is thought that the original concept of these sandwiches came from the Italians who immigrated to New York in the late 1800s and brought with them their favorite Italian Sandwich recipes. It is related to the Poor Boy, the Hero and the Hoagie. They are all made on full loaves of crusty French bread filled with various cold cuts and many different trimmings.